Welcome to Mrs. Corcoran's 4th grade class!
MIS uses a central binder system. Each student is required to maintain his/her binder. The binder...
helps students manage assignments and homework

designates a place for notes going to

school, completed homework, as well as

homework to be completed

and

notes going home

helps students build important organizational skills and habits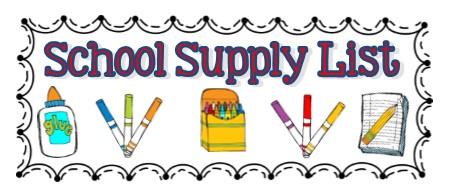 Grade 4 Supplies
White ring heavy duty 1.5" binder

2-pocket folders Blue, Red, Green, Yellow, Purple

5-3 ring dividers with pockets

3-ring pencil case

2 Highlighters

Pencils, Cap Erasers, Sharpener

Red Pen

Filler paper

Glue stick

, scissors

Post it notes

5

marble cover composition books

24 count crayons

1 box 200 count tissues
Congratulations to Kenna and Jack who will represent our class
in the upcoming Geography Bee! Way to go!
Mark these important dates on your calendar:
December 1st- Pretzel Sale! Just $1
December 12th- Winter Concert (chorus, band and orchestra)
December 13th- School Store
December 22- Half Day
December 23-January 1 Winter Recess
Happy Holidays!
WAHOO!!! Way to go FIRST IN MATH STARS!!!
If you have any questions for me, please contact me by email at
ccorcoran@bordentown.k12.nj.us
or leave a message on my voicemail (609) 291-7192 X5201. Messages left or emails sent after 12 may not be answered until the next school day due to our schedule. If there is an emergency or a change in how your child is getting home today, please call the main office and speak to Mrs. Romano (609) 291-7192 X5213.
Thank you!
Mrs. Corcoran